Environmental Process Engineering
Academic Staff
Taisuke MAKI

Associate Professor (Graduate School of Engineering)
Research Topics
Development of various micro devices (micro reactor, micro mixer and micro separator) available on site and having high energy efficiency.
Basic research on micro chemical engineering and systemization.
Fabrication of noble environment-conscious plastics with multi usability and applications in the life cycle.
Contacts
Room 012, Bldg. A4, Katsura Campus
TEL: +81-75-383-2688
FAX: +81-75-383-2658
E-mail: tmaki

cheme.kyoto-u.ac.jp
Yosuke MURANAKA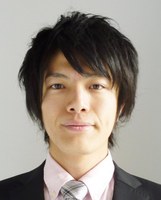 Assistant Professor (Graduate School of Engineering)
Research Topics
Our research interests include the effective utilization for biomass.
Development of pretreatment methods and comprehensive conversion scheme.
Production of environmentally benign plastics.
Contacts
Room 015, Bldg. A4, Katsura Campus
TEL: +81-75-383-2678
FAX: +81-75-383-2658
E-mail: muranaka

cheme.kyoto-u.ac.jp
Introduction to Research
The research in this chair is focused on the development of environmentally benign technology based on several new conversion methods. The current research activities cover the following topics. The staff also manages the chair of Environmentally Benign Chemical Processing, Department of Technology and Ecology, School of Global Environmental Studies.
1. Development of new biomass conversion methods
Biomass is a promising resource as a highly condensed energy media of solar energy. From this viewpoint, several new methods are developed to recover chemicals, methane, and hydrogen from biomass by supplying waste heat.
Liquid phase degradation of wet biomass under mild conditions.
New pyrolysis method for wood biomass.
Kinetic model of biomass pyrolysis and gasification.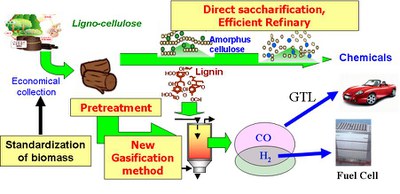 Fig. 1. Research strategy for efficient biomass utilization biomass.
2. Development of new environmental catalysts
The harmful pollutants must be destructed completely. Several new catalysts are developed to remove efficiently the pollutants as follows:
Production of porous FeOOH from waste FeCl3 and its application for the removal of F- and PO43- ions.
Development of new catalysts for removing VOC and CO at low temperatures.
Development of an inorganic/organic hybrid membrane for the removal of CO2.
3. Design of ecological industry
A new concept for ecological processing is proposed. The concept is to produce valuable materials and energy by combining waste materials and waste heats. To build up an ecological industry network based on the proposed technologies, the following items are investigated.
Production of energy and materials through the co-production of biomass with various metals.
Development of pre-carbonized process for the separation of waste mixture.
A new evaluation method for environmental impacts associated with technology.
4. Development of various micro reactors - Basic research of micro chemical engineering -
Novel devices available for green chemistry are required to produce valuable materials with low CO2 emission. Various micro reactors with new concepts are proposed and their performances are investigated as follows:
Development of various micromixers and microreactors and basic research for micro reactor system. (Collaboration by several Kozas
Production of nano-particle by several micro reactors.
Development of compact reformer for fuel cell.
Development of micro device and operation method for super-critical fluid.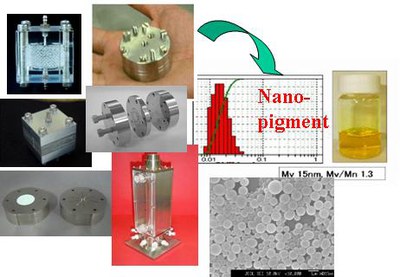 Fig. 2. Original microreactors developed in our laboratory and nano-particles produced by use of these reactors.