Messages from Current Students and Graduates
Voices of Doctoral Program Alumni
Takahiro Hasegawa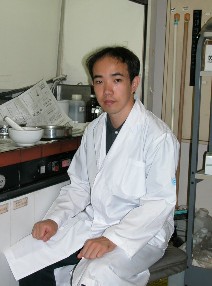 Carbon Materials Laboratory, Environment and Engineering Section
Osaka Municipal Technical Research Institute
Completed doctoral program in 2003 at the Separation Engineering Lab
I work at the Carbon Materials Laboratory of the Osaka Municipal Technical Research Institute, conducting research on adsorption materials such as activated carbon and charcoal. In addition to my own research, I'm also engaged in various other activities, in contrast to my time at university. These include handling technical consultations, and testing upon request and contract research for companies. For example, we conduct JIS tests on iodine absorption and methylene blue adsorption characteristics of activated carbons and charcoals upon request—mainly for companies. Our contract research projects cover a variety of themes, such as the development of new products and new technologies and solving technical problems for companies. We also pursue our own research based on the company needs identified through such activities. It was actually the research I did for my undergraduate graduation thesis that inspired me to work in this kind of job. I got to learn about carbon electrodes for electric double-layer capacitors, and thereby developed a strong interest in carbon. Later, during my master's and doctoral studies, I conducted further research on carbon materials related to the development of an anode for a lithium ion battery. I derived a lot of pleasure developing new carbon materials. My student time was very precious, especially my doctoral course, because I was able to engage wholeheartedly in full-fledged research, and also because I discovered found what I really wanted to do professionally.
Hideharu Nagasawa
Production Engineering & Development Center, Research & Development Management Headquarters,
Fuji Film Corporation
Completed doctoral program in 2007 at the Environmental Process Engineering Lab
I started my doctoral course in October 2003, under a special selection provision for mature-age students, and pursued research on precision control methods for fine particle formation reactions in micro spaces (spaces of micrometer-order dimensions). The control of reactions in micro spaces has drawn a lot of attention as an innovative technology with potential applications in many industries. This is because it enables high-efficiency processing and the discovery of new functions more effectively than conventional methods. I became attracted by the potential of this technology when I was previously engaged in the development of production technology at a company, which also gave me the urge to pursue research in this field. So, at the age of 39, I enrolled at Kyoto University, which was the leader in this technology, and energetically pursued the kind of research I wanted to do. During my studies, I got to know my professors and fellow students very well as I did my research. It was a very valuable experience that I could not have had working at a company. I am now keen to make use of the new and innovative technology that I mastered at the university for creating new business opportunities and new products at my company.
Voices of Current Mature Student in the Doctoral Program
Tetsumasa Yamaguchi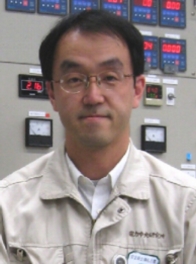 Fuel Reformulation Engineering Field, Energy Engineering Research Laboratory, Central Research Institute of Electric Power Industry
Completed doctoral program in 2007 at the Chemical Reaction Engineering Lab
At the Central Research Institute of Electric Power Industry, my work involved research on catalysts for removing dilute components generated in combustion process. I decided to pursue a doctoral course because I recognized that having a PhD is valuable in the career of a researcher, and also because of the added status that a doctorate provides. A doctoral degree can be earned by thesis alone. However, I decided to take the doctoral program for mature-age students because it offers many advantages—for example, you can receive systematic guidance at the university, you can learn a great deal from the rich knowledge and experience of teachers, and your research is evaluated from view points totally different than your own. The keywords that describe my research are "coal", "catalyst", and "reaction". It was very fortunate that I was able to do my research under the guidance of Professor Miura, the leading researcher in this field. The series of intensive lecture and mid-term report presentations at Kyoto University were very refreshing for me, and I found the overall environment very inspiring. As I continue to conduct scientific research on reaction mechanisms at Kyoto University, I would also like to aim at developing technology that can be put to practical use to help meet the environmental restrictions on dilute components.
Voices of Current Doctoral Program Students
Kim Younghan
Started doctoral program in 2005 at the Material Process Engineering Lab
I commenced my doctoral course in 2005. There are many graduate schools in Japan, but I chose the Department of Chemical Engineering at Kyoto University because I got the impression that I would be able to conduct research in a free and unconstrained environment. However, when I started my research at the university, I went through a period of groping in the dark. Research is in fact a battle with oneself. At times, I get poor results, which disappoint my expectations; at other times, I get impressive results. Nonetheless, little by little, day by day, I can actually feel that I am progressing. In addition, giving presentations about your daily research findings at academic conferences within Japan and overseas gives you reassurance about the necessity and possibilities of your own research. The research that I'm conducting now has to do with forming porous polymer thin films utilizing phase separation phenomenon, using a drying process involving two types of incompatible polymer solutions. My aim is to elucidate the mechanism of formation. These kinds of porous thin films have drawn a lot of attention for their potential application in the field of biotechnology, as electronic materials and separation membrane. In the dictionary the term "chemical engineering" is described as a field of engineering in which the fundamentals of various scientific disciplines are applied to product design and production. The integration between diverse academic disciplines is becoming more and more active, and the role of chemical engineers is becoming increasingly important. So I recommend that you take up the challenges and unlimited possibilities available in the free research environment of the Department of Chemical Engineering at Kyoto University.
Takuya Iwashita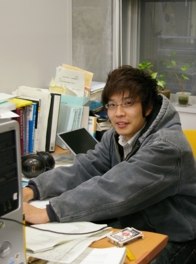 Started doctoral program in 2006 at the Transport Phenomena Lab
During my master's course, I worked in a physics lab, but after graduating I started to work for a private company. It was only later, as a doctoral student, that I leaped into the field of chemical engineering. In the field of chemical engineering there are many phenomena that are extremely complicated and dynamic. Currently, I am enjoying myself by conducting research on the dispersion of fine particles in solvents, by means of numerical computation. When I think back, the thing that pushed me to take up this doctoral program was simply my spirit of inquiry and the desire to find solutions to various unsolved problems. There is more than one path, and we only live once. So why not spend your life taking up various challenges, or investing your passion into the things you really want to do. Also, when you are a student, it's possible to play hard and study hard! What's important is that you make your choice with full conviction and belief in yourself. I wish you a rewarding time in pursuing your dream.
Koichi Fujiwara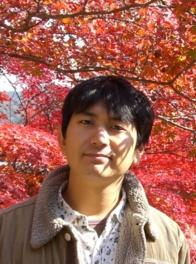 Started doctoral program in 2007 at the Process Systems Engineering Lab
What do reading, traveling and conducting research have in common? All of them are about solving mysteries and satisfying our curiosity. They are activities that make our boring and mundane lives a little more enjoyable. Since I was a child, I have always read books, and since I became a university student I have traveled extensively. However, these acts are merely retracing the discoveries made by others. I encountered the art of research for the first time in the fourth year of my undergraduate studies. In research, you don't deal with issues that have already been resolved by others—rather, you have to identify the issues and solve them all by yourself. This requires a lot more effort than reading books. However, the sensation you feel at the moment of genuine discovery—"Oh, I understand it now!"—is exhilarating. My research is concerned mainly with statistical modeling at the Process Systems Engineering Laboratory. This work is done in collaboration with various companies. The results of my research will be directly fed back to the community and will have some impact on it. While knowing this makes me feel considerable pressure, it is also a major motivating factor behind my research. The research environment makes a vast range of equipment and software freely available and offers opportunities to attend academic meetings and international conferences. So, the environment is very fertile—not only for the research itself, but also for personal development. And you probably won't be as bored with your life.